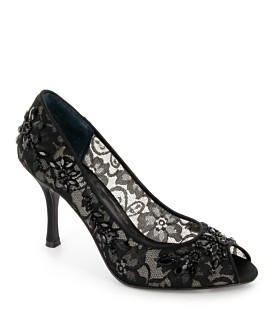 My conference at RWA is only five days long. Not even that for me this year, since I'm leaving a day early to go dolphin training.
And yet, I have already bought three--count 'em, three--new pairs of shoes. A cute little pair of sandals with cherries on them (oh, they were too cute to pass up!!). Some wine-colored Steve Madden wedge peekaboo toe platforms (wine goes with everything, right? :-) and black lace with crystal high heeled killers that I wore to my Dad's wedding that cost so much they have to be conference shoes, too. But they ROCK to no end, so I love them and can't wait to wear them. I wear them sometimes with jeans because they are shoes that ROCK, no lie. (That's them on the right.)
And yet, I walk through the shoe department at Macy's and salivate. LITERALLY. It's some kind of Pavlovian response. I see the new shoes and want to take EVERY PAIR HOME. They're like puppies and kittens to me. I love them ALL. Every single one. (Okay maybe not some of the Clarks and Rockports. I draw the line somewhere).

And so does my pocketbook. Sigh. Maybe there's a shoe lottery. Like if you hit it, you can have every single pair. Of course, I'd need to win it for both seasons of the year, because in a couple months, they'll be putting out the boots ;-)

Listening to "Rent" sountrack (totally love that soundtrack!)
Reading: Candles Burning (back to that book again :-) and a new Wendy Corsi Staub at the same time