My husband clearly knows how to keep his wife from harping on him ;-)
He bought himself an iPod Nano (which was going to be what I was going to get him for his birthday, which is next week, but he beat me to it) and I LOVED IT when I got a chance to play with it. LOVED IT. LOVED IT. LOVED IT.
I had already had an old Sansa MP3 player. Thought that was the bomb to begin with. The convenience of downloading songs I loved, etc. But then I saw what an iPod could do and I was so hooked, I had to have one.
And wasn't it convenient that my birthday was coming up? ;-) So, guess what was in the little gift bag from DH? An iPod Nano. I already have 1gB of songs loaded--just from what I already had at home. I haven't even bought any iTunes yet. And yes, I bought a cute little cover for it. You have to have that, of course, to go with the very cute blue iPod ;-)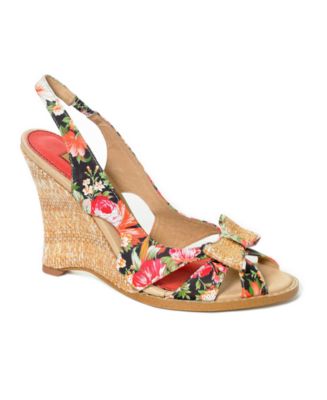 Ah, and the shoe saga. I took back the Steve Madden wedges because I found WAY better wedges.
Chinese Laundry brand
wedges at Macy's. They are surprisingly comfortable and I have to say I haven't missed the Steve Madden wine colored ones a bit (plus I had nothing to match wine shoes anyway). Lots of compliments on these shoes, too. They are way too cute.
Okay, so I am not totally vapid. Not totally anyway ;-)
I finished reading
Candles Burning
by Tabitha King. You all were right -- it does get better. It was like I could tell when Tabitha took over (this book was started by a writer who died, then finished by Ms. King) because the book suddenly picked up speed and it went so much faster. I wish there had been more "ghost" stuff in it and that the ending had been a bit beefier, but overall, I really enjoyed the book.
There's nothing on my reading list for now because A.) I have a whole lot of writing on my plate and B.) I leave on Tuesday for the Romance Writers of America conference in Dallas.
If you're in the Dallas area, stop by the Hyatt Regency Dallas on Wednesday night from 5:30 to 7 for the multi-mega author book signing-- all proceeds benefit literacy! I'll be there, signing copies of my books!
Shirley